As we are at the height of AI technology and innovation, new AI-powered tools are being introduced almost every day. LimeWire is a new platform that has joined this growing roster of generative AI tools.
LimeWire is not just another AI tool. It takes a different approach to AI content generation while offering creators ways to share and even monetize their AI content creations.
Today, we check out LimeWire to see what it has to offer, what kind of features and benefits it has for creators, and how you can use it to create AI images for free. Let's dive in.
What is LimeWire?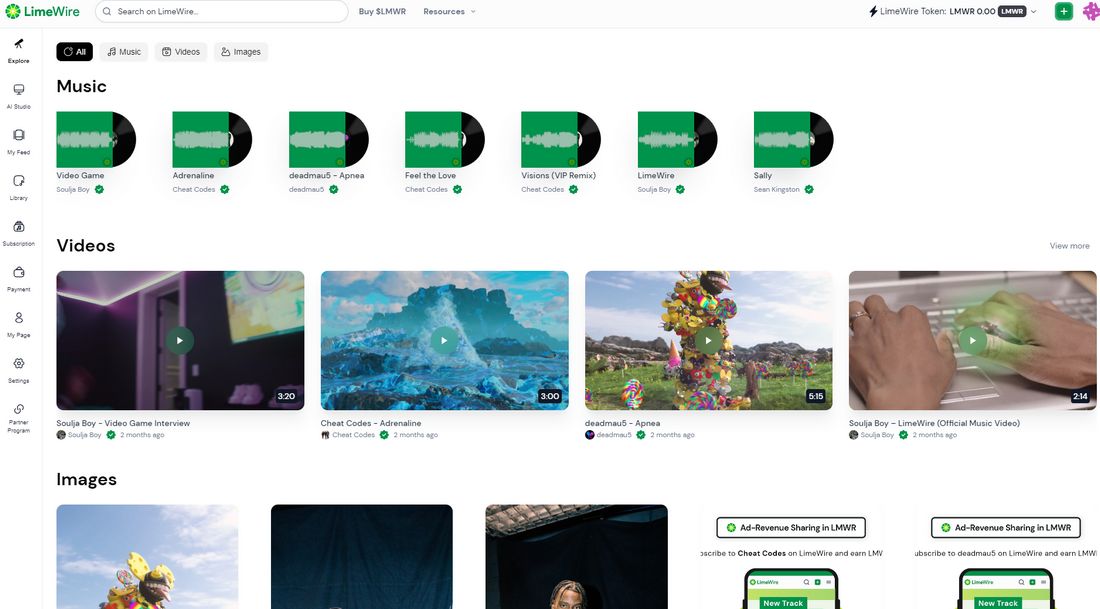 LimeWire was a popular file-sharing tool back in the 2000s, especially for sharing and downloading pirated content. Following many lawsuits, it was shut down in 2010. This is not the LimeWire we are talking about today.
Taking its popular name, LimeWire has relaunched as a brand new AI content publishing platform. It allows users to register and create their own AI content and publish the content to the LimeWire Studio.
Even some of the big-name artists and musicians, like Deadmau, Soulja Boy, and Sean Kingston, have published content on the platform in the form of NFT music, videos, and images.
The platform also has monetization models to help users earn revenue through their creations, including earning ad revenue and selling NFTs. Keep reading to learn more about that.
LimeWire AI Studio
In LimeWire Studio, content creators can join to create their own AI-focused content to share with their fans and followers.
Every piece of content you create on LimeWire is ownable and tradable. Your fans can subscribe to your page to follow your creations and even own them as digital collectibles, which can be traded among the fans. Every time a fan trades your content, you earn a 2.5% royalty.
The platform also allows creators to publish content for free or to offer a premium subscription to access your exclusive content.
At the time of this writing, LimeWire supports AI Image Generation and has plans to introduce AI music and video generation tools in the near future.
AI Image Generation Tools
LimeWire AI image generation tool allows you to both create and edit images. The image creation tool supports Stable Diffusion 2.1, Stable Diffusion XL, and DALL-E 2.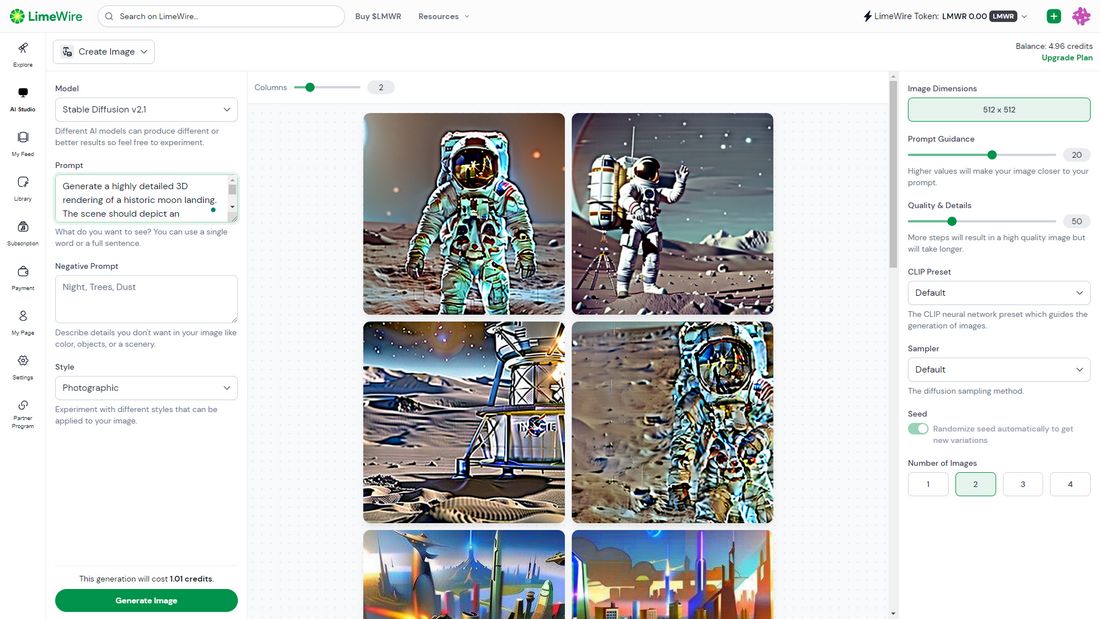 Similar to other generative AI tools, LimeWire offers many options for creating sophisticated AI art and images. Your prompts can be as simple as a few words or more sophisticated with detailed instructions.
You can easily switch between different AI models and different styles of designs, which range from cinematic to digital art, pixel art, anime, analog film, and more. Each style has its own unique look that creates entirely different designs for your AI art.
There are also options for using samplers, customizing the quality and detail levels, as well as prompt guidance.
LimeWire is working on its own proprietary AI model to be introduced very soon.
Automatically Mint Your Content As NFTs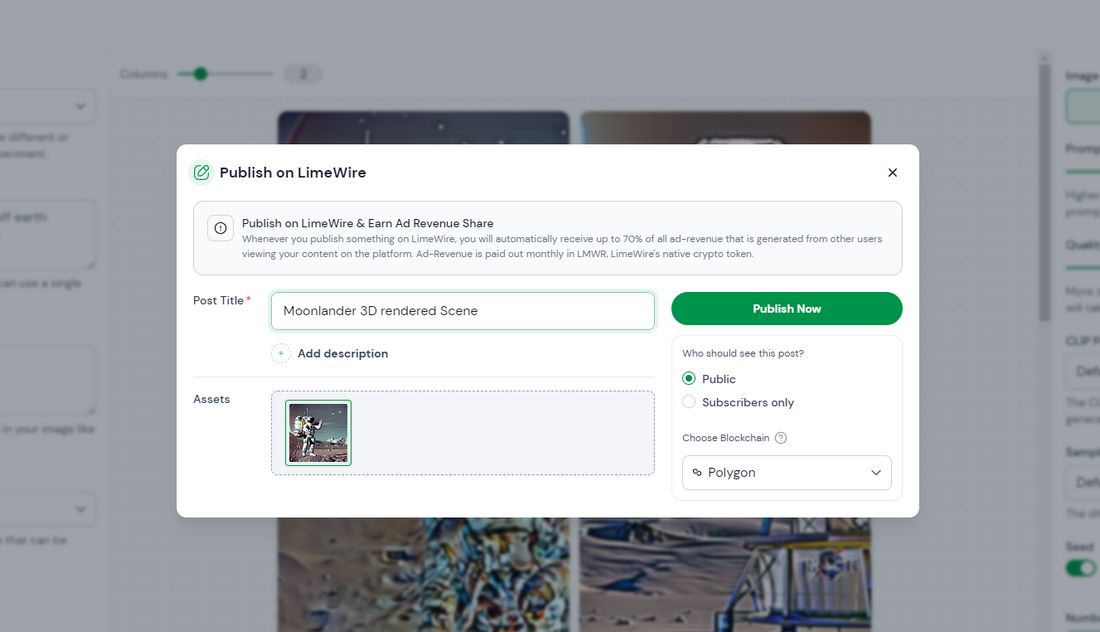 After creating your content, you can choose to publish the content. It will automatically mint your creation as an NFT on the Polygon or Algorand blockchain. You can also choose whether to make it public or subscriber-only.
If you make it public, anyone can discover your content and even trade the NFTs. If you choose to share the post only with your premium subscribers, it will be exclusive only to your fans.
Earn Revenue From Your Content
Additionally, you can earn ad revenue from your content creations as well.
When you publish content on LimeWire, you will receive 70% of all ad revenue from other users who view your images, music, and videos on the platform.
This revenue model will be much more beneficial to designers. You can experiment with the AI image and content generation tools and share your creations while earning a small income on the side.
LMWR Tokens
The revenue you earn from your creations will come in the form of LMWR tokens, LimeWire's own cryptocurrency.
Your earnings will be paid every month in LMWR, which you can then trade on many popular crypto exchange platforms like Kraken, ByBit, and UniSwap.
You can also use your LMWR tokens to pay for prompts when using LimeWire generative AI tools.
Pricing Plans
You can sign up to LimeWire to use its AI tools for free. You will receive 10 credits to use and generate up to 20 AI images per day. You will also receive 50% of the ad revenue share. However, you will get more benefits with premium plans.
Basic plan: For $9.99 per month, you will get 1,000 credits per month, up to 2 ,000 image generations, early access to new AI models, and 50% ad revenue share
Advanced plan: For $29 per month, you will get 3750 credits per month, up to 7500 image generations, early access to new AI models, and 60% ad revenue share
Pro plan: For $49 per month, you will get 5,000 credits per month, up to 10,000 image generations, early access to new AI models, and 70% ad revenue share
Pro Plus plan: For $99 per month, you will get 11,250 credits per month, up to 2 2,500 image generations, early access to new AI models, and 70% ad revenue share
With all premium plans, you will receive a Pro profile badge, full creation history, faster image generation, and no ads.
In Conclusion
With platforms like LimeWire, anyone can be a creator and share their work. Especially with the help of AI, there are no limitations to hold you back. It offers designers, musicians, and artists a place to publish and earn revenue in a matter of few clicks.
LimeWire has plans to expand its generative AI tools with new features and models to allow creators to produce music and even videos. It would be interesting to see how creators will take advantage of these tools to produce and publish their own creations.
You can check out LimeWire's AI tools for free and be on the lookout for its upcoming AI music and video generation tools.